Quick Links:
---
Registration
Registration Fee Overview
❗ NOTE: Registration will automatically close once 3000 tickets are sold.
All rates are in EUR (€) and shown excluding and including compulsory VAT (20% AT VAT)
Early Bird

STANDARD

Late

MEMBER Delegate*

Up to and including
29 May 2023 (23:59 CEST)

As of 30 May 2023 and until including
16 September 2023 (23:59 CEST)

On & after
17 September 2023

ALL-ACCESS (all days)
incl. opening walking dinner (25-Sept), sessions, and all meeting options

990.00€ net
1,188.00€ VAT incl.

1,100.00€ net
1,320.00€ VAT incl.

Not Available

ONE (1) DAY
1-day ticket access incl. sessions and meeting options ONLY (opening dinner on 25 Sept. 2023 not included)

600.00€ net
720.00€ VAT incl.

700.00€ net
840.00€ VAT incl.

Additional Option: OPENING DINNER ticket
Monday 25 Sept. 2023 e.g. for one day pass

150.00€ net
180.00€ VAT incl.

Not Available

Speaker

Speaker / Chairman / Moderators etc. pay participant fees in line with the above types/categories unless a coupon code has been sent by the event organizer, speakers or moderators failing to enter the sent discount code will not be reimbursed.

Press / Journalist

Please send a recognized press card and a commissioning letter from the editor to communications@epca.eu to qualify for this category for approval and receive the coupon code. Otherwise, EPCA's event policy and registration fee apply. Failure to enter the provided code will result in the full participation fee being charged, with no reimbursement provided. Limited to a maximum of one (1) person from the same organization/publishing house. Please note the onsite evening functions are not included in the category "Press / Journalist" but can be purchased.
*To participate in the event employees/individuals must register with a business email address of an EPCA member company in good standing (having paid its annual dues). Registration, sponsorship booking, and meeting table/room reservations are exclusive to EPCA members. All tickets are nominative and non-transferable. It's important to note that the event will primarily take place in Vienna, and online participation will be limited to viewing streamed sessions or may not be available at all.
EPCA Annual Meeting is a Member Exclusive event and the MEMBER delegate registration fee covers:
• Access to attendance list and delegates' contact details (as per delegate's visibility preference)
• Access to EPCA seating lounges
• Access to EPCA info desk
• Official EPCA business sessions like the Logistics and Supply Chain session, Leadership Forum or Talents of Today, Leaders of Tomorrow session etc.
• Meetings over Breakfast (standing) on Tuesday 26, Wednesday 27 and Thursday 28 September 2023
• Coffee Breaks on Tuesday 26, Wednesday 27 and Thursday 28 September 2023
The registration fee does not cover expenses related to travel and accommodations, rental of meeting rooms or tables, and other related goods and services.
Non-Member registration is not possible!
It is not possible to attend as a non-member the 57th Annual Meeting of EPCA.
For new members to attend the event in Vienna, they must have submitted a complete membership application by 30 June 2023. Kindly note the membership application process can take up to eight (8) weeks and that registration for the Annual Meeting will only be possible once the membership invoice has been paid.
For companies that have not paid their annual membership before 17 September 2023, we regret to inform you that you will not be able to register and cannot attend this year's event.
However, new membership applications for the year 2024 will begin in October, after this 57th Annual Meeting. Companies interested in participating next year are encouraged to start the application process early to avoid disappointment in 2024.
Terms & Conditions for Delegates
The Terms & Conditions for delegates can be read here (www.epca57.eu/main/pages/terms-conditions).
Payment / Invoice information:
The only acceptable payment is via credit card through the registration site. We will not accept wire payment, check or PO. An invoice will be issued upon paid completion. Please use the address needed for your invoice during registration. You can change this yourself if you need to, with the exception of the country and Tax/VAT number.
Why is there Austrian VAT (20%) on registration fees?
According to articles 53 and 54 of the European VAT Directive 2006/112/EC of 28 November 2006 the place of supply of services in respect of admission to a.o. scientific, educational or similar events, shall be the place where those events actually take place. Consequently, local VAT must be charged on the admission fees to such events. In this respect German VAT is levied on the admission fee to our 57th Annual Meeting in Vienna, Austria.
Insofar as and to the extent that you are entitled to deduct VAT in your own country, the Austrian VAT can be reclaimed.
As from the 1st of January 2011 European taxable persons must reclaim foreign VAT electronically (via an electronic refund portal) in their own member state (EU Directive 2008/9/EC from 12 February 2008).
How can I see who is participating?
The attendance list will be made available by the latest end of July 2023 to registered and paid MEMBER delegates. The list will be accessible in the dedicated events portal and accordingly to the visibility preference of each delegate.
EPCA's Badge Policy "No Badge No Entry"
Access to EPCA activities will be allowed only to people wearing #EPCA57 badges. Our policy is not to reprint badges or replace lost badges. If you lose your badge, you will be able to purchase a new registration at the current on-site rates, but only if on-site registration will be offered. Please keep track of your badge and make sure you bring it each day.

People who have not registered and therefore cannot present a valid event badge can still access the public areas of the participating hotels like the lobby, restaurant or bar, but will not be accepted in any EPCA area or its member companies use for meetings.
For member company events taking place in the EPCA partner hotels, please note the "No Badge No Access" policy is enforced.
ACCOMMODATION
Here you will find an interactive map with the different hotels around the Stadtpark in Vienna. The hotels highlighted in light blue are the official EPCA partner hotels.
Map
List by hotel:
Hotel

Room rate starts at

Booking Link

Hilton Vienna Park ****
Am Stadtpark, Vienna, Austria

335.00 € / night

InterContinental Vienna *****
Johannesgasse, Vienna, Austria

395.00 € / night

Vienna Marriott Hotel *****
Parkring, Vienna, Austria

464.00 € / night

Hotel Palais Coburg *****

Coburgbastei, Vienna, Austria

755.00 € / night

The Ritz-Carlton Vienna *****
Schubertring, Vienna, Austria

590.00 € / night

Hotel Grand Ferdinand *****
Schubertring, Vienna, Austria

293.00 € / night

Hotel Am Konzerthaus MGallery ****
Am Heumarkt, Vienna, Austria

245.00 € / night

Mercure Grand Hotel Biedermeier ****
Landstraßer Hauptstraße, Vienna, Austria

236.00 € / night

Hotel Imperial ****
Kärntner Ring, Vienna, Austria

460.00 € / night

Grand Hotel Wien *****
Kärntner Ring, Vienna, Austria

302.00 € / night

Grand Hotel – Booking Link

Hotel Bristol *****
Kärntner Ring, Vienna, Austria

395.00 € / night
Travel
Flight offers Lufthansa Group
Special Lufthansa Group airlines fares

The Lufthansa Group airlines bring people together - every day, all around the world. The global route network of Austrian Airlines, Lufthansa, SWISS, Brussels Airlines and Eurowings offers optimal connection and combination options, so you will benefit from quick and direct flights to the event.

You will reach the booking platform via this link https://www.lufthansa.com/de/en/meetings-and-events-delegates and with the event code ATAUDRE. The reduced fares are automatically displayed.

NB: Please enable pop-ups permanently in your browser while booking, otherwise the window in the booking platform will not open.
Sustainability practices at #EPCA57
Climate change is not a myth and natural resources are finite. Responsible consumption and production are at the core of the UN's SDG 12. At EPCA we want to contribute to a clean future by choosing whenever possible sustainable and green venues, suppliers and products. SDG 12 goes hand in hand with SDG 13, which is a call to take immediate action to combat climate change and its impact. As we know that the Annual Meeting has a significant impact on the environment, this is also where we can make the biggest difference. Here's what we do to support this goal:
#EPCA57 is paperless - Avoid unnecessary use and distribution of paper collaterals
Materials and waste: Whether printed or digital, all communication has an impact. The collateral produced for an event is an important contributor to its environmental footprint. The flyers, banners and other needed communications have an impact that depends on their volumes, materials used, finish and format. Furthermore, promotional material, in various forms by company members and different publications, that were frequently distributed at EPCA's Annual Meeting had an environmental footprint in its production phase and contributed to the event's waste. As a big portion (80%+) of this was discarded at former EPCA events our Annual Meeting is since 2022 paperless.
Offsetting our carbon footprint
EPCA plants trees in partnership with activities in the destination or by supporting WeForest to offset the carbon footprint of our activities. WeForest restores threatened forests and landscapes in tropical regions and biodiversity hotspots. Their focus is the well-being of the communities where they work.
Efforts related to the venue and F&B
Reducing food waste, water and energy consumption; encouraging the recycling of materials post-event.
Stimulate the EPCA community to take action
We ask our attendees, partners and sponsors to make conscious choices when it comes to transport, travel, collaterals, food, water and electricity consumption.
Media Resources
In the run-up to the Annual Meeting it would be great to count you among our ambassadors by sharing your presence on social media | Hashtag #EPCA57 | Follow the latest EPCA news on LinkedIn: https://www.linkedin.com/company/epca-eu.
Social Media Card / Banner - I'm attending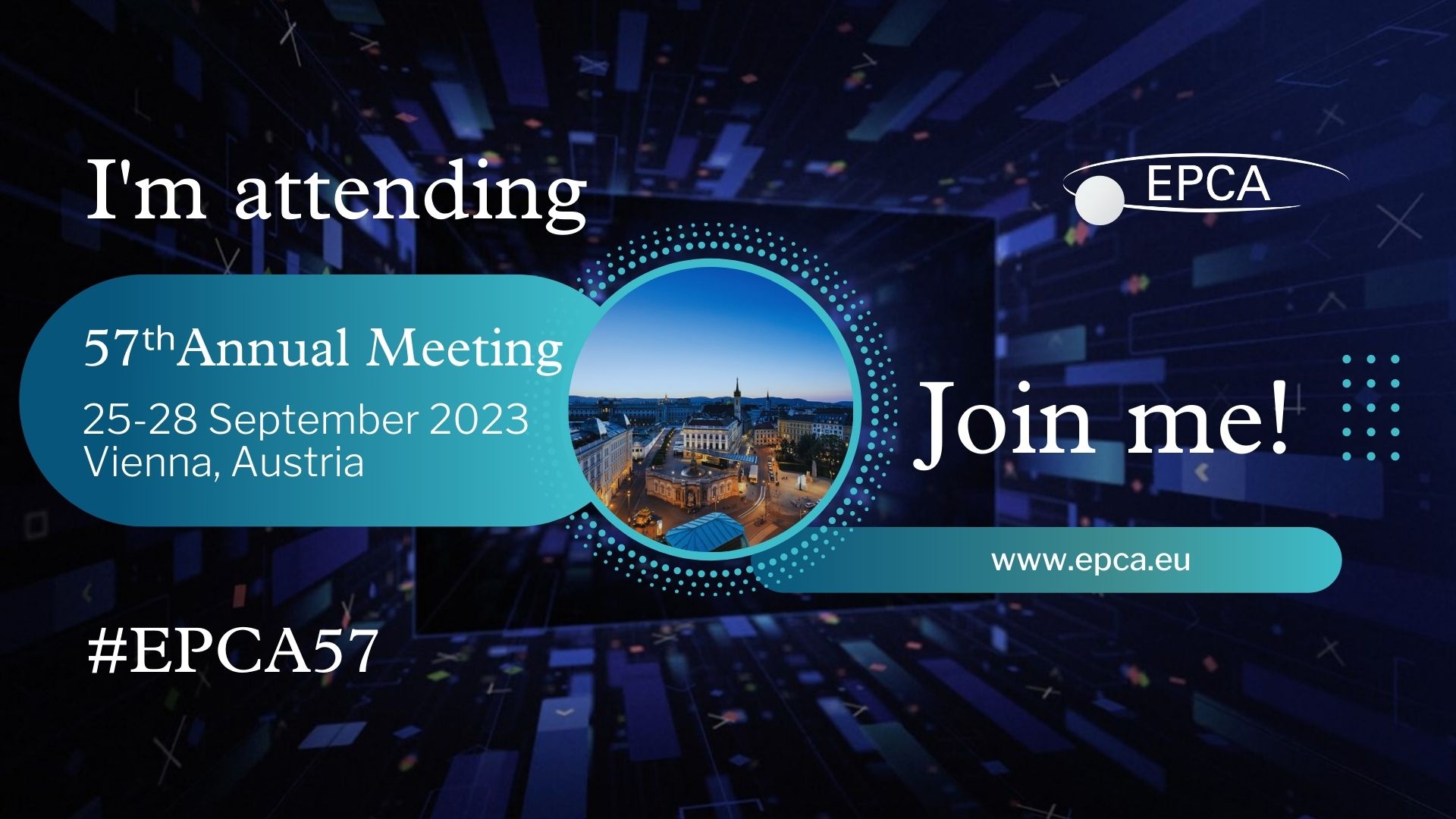 Donwload the .jpg file
Social Media Card / Banner - Plain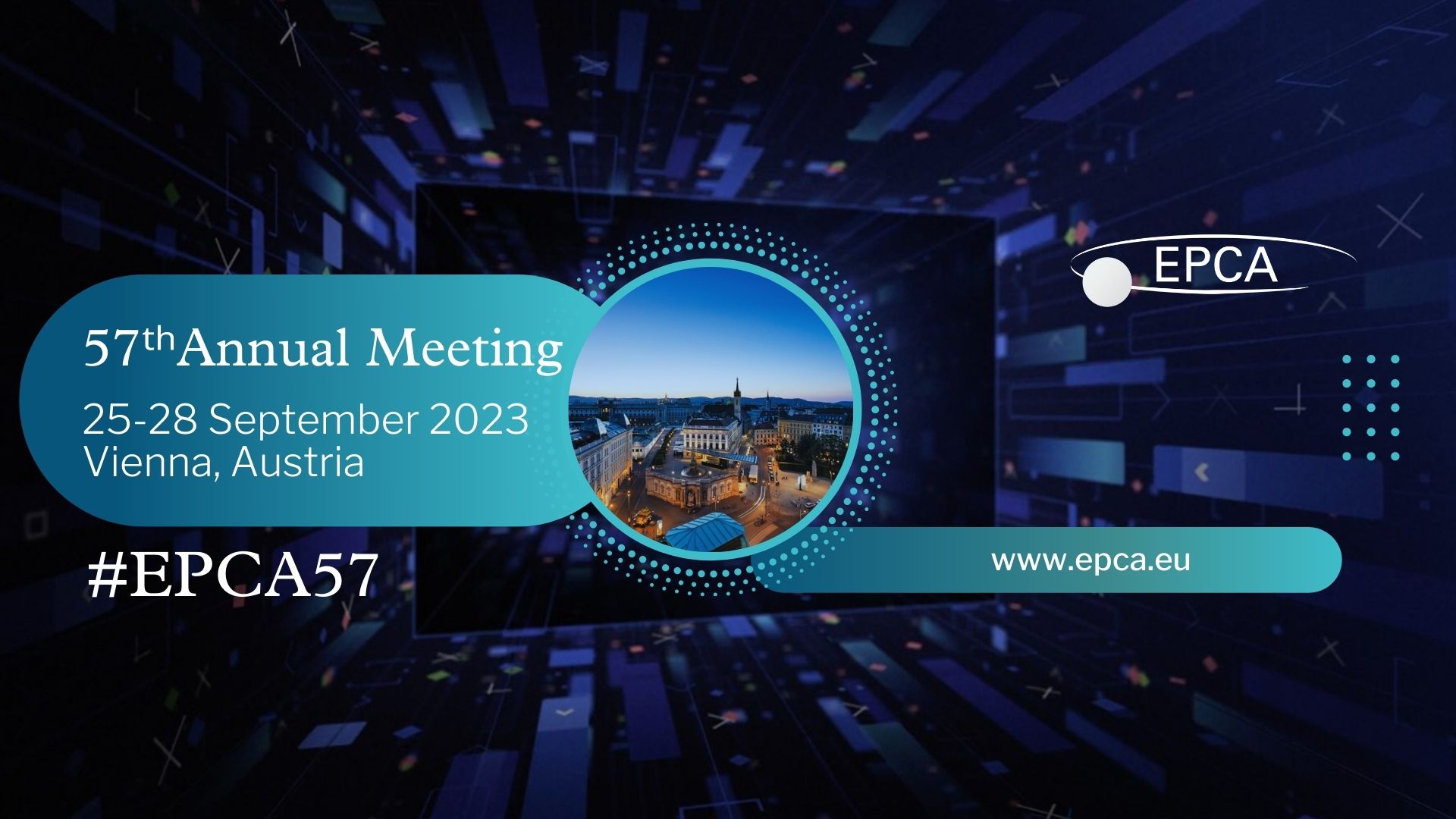 Download the .jpg file
Small signature banner

Download .jpg file